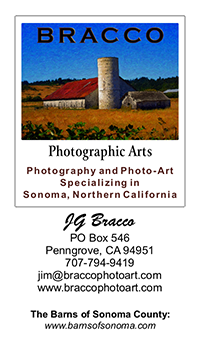 Available in Standard Small Medium and Large sizes or we will fabricate
any image to your size - mat - trim - canvas specifications.

We love custom work! Email for info
>Barn Wood Frames and Custom Framing and sizes
>Gallery Wrap Prints, any print available as Gallery Wrap
>Custom photo-art available of / for your home or barn...
Bracco Photo-Art
PO Box 546
Penngrove CA, 94951
707-722-5462

Email info@braccophotoart.com for pricing and ordering information
Downloadable PDF Portfolio (Large File)
Return to Galleries:

http://www.braccophotoart.com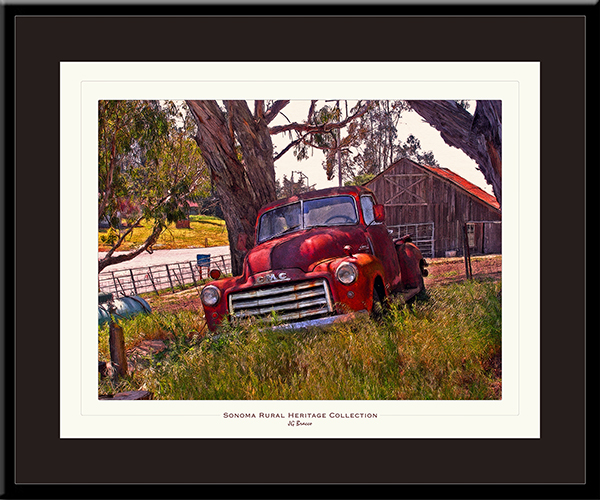 Heritage Collection
Collection of images that epitomize the rural character of Sonoma County and
San Francisco's North Bay with Rural Heritage Collection trim
Small, Medium, Large prints
Vintage Collection
Vintage style images with black and white trim
Small, Medium, Large prints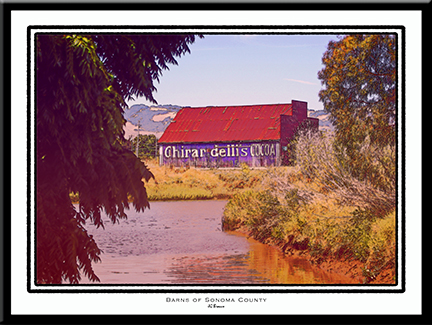 Originally from the Northeast and residing in Sonoma, California Bracco has photographed landscapes and structures in California and the world over for 20 years. His images reflect a deep appreciation for his adopted home, a sense of the local character and inspired digital imaging technique. Jim is a Software Engineer by profession but in his spare time can be found searching out hidden gems among the farms and ranches on Northern California's back roads, his wife and daughter in tow. An avid mountain biker, he also packs a camera on his bike and captured a few of his "Beauty Queen" barn photos while bike trekking through the area. As a self-described Photo Artist, "My fun starts where the traditional photographer ends. The photographic image is my canvas, with emphasis on enhancing, and artistically rendering it to create an image that captures the character of the original scene." His most recent series, "The Barns of Sonoma County" is intended to raise awareness for Northern California's vanishing rural architecture and encourage preservation of these structures and the special character they lend to this unique region.

Frames:
Rustic style frames custom fabricated from barn siding recovered from area barns that were, unfortunately, themselves victims of suburban sprawl are available. (Many of these structures are simply demolished and burned by developers installing new subdivisions.)
Custom photo-art, treatments, sizes and framing are available.